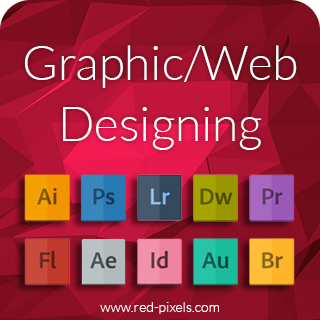 Red Pixels offers a wide range of Multimedia Classes including Graphic Design, Responsive Web Designing and Advanced Web DevelopmentProfessional Training. Duration for Web Development Course is 6 months. Course covers advanced HTML techniques using HTML5 (Hypertext Markup Language), CSS3 (Cascading Style Sheets), XML (Extensible Markup Languag), JS (Java Structure), PHP (Hypertext Preprocessor).
Our Responsive Web Designing & Development Course covers web industry best topics & practices and also we provide sound knowledge to create a professional responsive website. After completion of your course you will be able to design and develop complex websites as well Single Page Website, Blogger & Creative Web Mailer with best UI(User Interface) Design & UI development using various technologies from our industry best experts.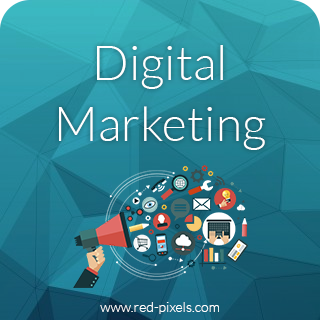 What is digital marketing?
The marketing of products or services using digital channels to reach consumers. The key objective is to promote brands through various forms of digital media.
Digital marketing extends beyond internet marketing to include channels that do not require the use of the internet. It includes mobile phones (both SMS and MMS), social media marketing, display advertising, search engine marketing, and any other form of digital media.
Want to get ahead in digital marketing?
Our course gives you all the latest industry insights, knowledge and skills needed to plan, implement and monitor effective digital marketing campaigns. You'll also be able to implement marketing plans using the latest digital tools and practices. With this qualification, you will gain a clear understanding of practical considerations, including digital metrics, regulations and codes of practice.
RED PIXELS offers special Summer Training Program in Delhi & Winter Training Program in Delhi for Graphic Designing, Web Designing, Web Development, Digital Marketing, Video Editing, DTP Training, PHP, Python, Salesforce, C, C++, C#, Java, .Net Courses with over a decade of experience in computer education.
Summer Training in Delhi for B.Tech, BCA, MCA, BFA, NIFT, B.E. (April, May, June & July 2018)
---
RED PIXELS is one of the Top IT Training Institutes in Delhi, Laxmi Nagar and offers Best Summer/Winter Training Program in programming languages, graphic design, web designing, web development, digital marketing and other latest technologies. These summer training programs are especially suited for 12th Pass and IT students in 1st, 2nd & 3rd year of their college and are interested in making a career in software development.
RED PIXELS focuses on providing practical training to the students to make sure that they are able to use their knowledge in the real world. The courses are conducted between May, June and July at our New Delhi, Laxmi Nagar Brach.
Apart from our Summer Training Courses in Delhi, we also offers full-time courses like Advanced Graphic Design, Web Designing, 2D/3D Animation, Digital Marketing, Website Development, Android App Development and PHP.
Each participant will receive training completion certificate from RED PIXELS.
First 50 students will get 30% flat discount on all courses.
Participants will be eligible for discounts in our other Training courses and Placements.
The Summer Training courses that we offered are given below:
---
6 weeks/8 weeks Summer Training in Graphic Design
6 weeks/8 weeks Summer Training in Web Designing
6 weeks/8 weeks Summer Training in Web Development
6 weeks/8 weeks Summer Training in Digital Marketing
6 weeks/8 weeks Summer Training in Programming in C, C++
6 weeks/8 weeks Summer Training in Programming Java
6 weeks/8 weeks Summer Training in PYTHON Programming
6 weeks/8 weeks Summer Training 6 weeks/8 weeks in HTML5, CSS3